Doctors
In an age when healthcare is rapidly changing and people are looking for solutions beyond drugs, injections, and surgery, we are proud to offer state-of-the-art chiropractic treatments and procedures that will improve your health with the utmost safety and precision. We are committed to being a leader in developing a healthy community by empowering individuals and their families to achieve their goals. Lakeview Chiropractic is celebrating its 20th anniversary this year!
Dr. Jeannine Suksi
I am a 1994 graduate of Palmer Chiropractic College that has been practicing "non-force" chiropractic techniques in Port Huron since November 1993, where I began my career as an intern. The "non-force" adjusting techniques I utilize release nervous system interference through the use of touch, breath, and gentle hands-on and instrument adjusting. These techniques are performed without "cracking" or "popping" the bones of the spine and include:
Biocranial
B.E.S.T. or Bio Energetic Synchronization Technique
KST or Koren Specific Technique
Elements of Logan Basic, Torque Release, S.O.T. or Sacro Occipital Technique, and extremity adjusting
Affectionately known to my patients as "Dr. J.," I am also a Reiki practitioner. Also, I have received an Associate Degree in Law Enforcement from Schoolcraft College, and a Bachelor of Science degree in Criminal Justice from Madonna University, both located in Livonia, Michigan. My previous employment experience includes eight years as a police officer with the city of Inkster, Michigan, and five years as a Youth Specialist with the State of Michigan.
I like to cycle, as well as kayak the many rivers and lakes offered by the Blue Water Area.
---
Dr. Jeffrey Carpenter
I have been practicing chiropractic in the Port Huron area for 15 years and love living in my hometown where I can serve my community. I enjoy the outdoors, as well as the many activities that Michigan and the Great Lakes have to offer. I have found Port Huron to be a great place to grow up and also raise my young family.
I am committed to helping families in the community experience improved health and vitality. I enjoy educating others on how to better manage stress, prevent injury in the workplace and at home, and maintain peak performance in all facets of life. My mission is to empower as many people as possible to experience their optimal health potential through genuine chiropractic care and health education.
As a native of Port Huron, I attended St. Clair Community College and received an Associate in Science degree. I moved on to study biochemistry at Northern Michigan University and Wayne State University. I received my Doctorate of Chiropractic at Life University in Atlanta, Georgia, which is the largest college of chiropractic in the world.
I utilize multiple techniques in working with patients. These include:
Diversified
Thompson
Activator
Pro-Adjuster Active Release Technique
Flexion/Distraction
Extremity Adjusting
In our chiropractic office, I may also perform physical therapeutics and recommend rehabilitation techniques at home.
I am certified in Strength and Conditioning through Texas Chiropractic College, and will soon be a Diplomat in Chiropractic Sports Medicine.
My passion for chiropractic and genuine concern for others drives my pursuit of excellence in my work as well as my service to the community. I welcome all who seek a higher level of wellness and health, including patients with chronic low back pain, headaches, neck and shoulder pain, sports injuries, pregnant women, and children.
Another hometown local of Port Huron once said, "The doctor of the future will give no medicine, but will interest his patients in the care of the human frame, in diet, and in the cause and prevention of disease." ~ Thomas A. Edison
---
Dr. Casey Poff
I am a native of Michigan, having grown up in the town of St. Johns. I attended Kalamazoo Valley Community College and received my Associate of Arts in General Studies. I graduated from Logan College of Chiropractic in Chesterfield, Missouri, where I earned my Bachelor of Science in Life Science and Doctorate of Chiropractic Degree.
I come from an extended line of health care physicians with my father, grandfather, aunt, and uncle choosing the profession of Doctor of Osteopathic Medicine. Being raised in that frame of mind, I knew early on that my life would occupy helping others. I enjoy learning as much as I do teaching others what I have learned throughout the years. There is no greater reward than providing care and helping patients understand what is the cause of their pain.
Throughout high school and college, I was involved in numerous sports and continue to stay avid about living a healthy lifestyle.
---
Dr. Andrew Pesta
A native of Port Huron, I pursued my undergraduate education at St. Clair Community College and Central Michigan University. I received a bachelor's degree in Human Biology from Logan College of Chiropractic in 2015. I graduated with my Doctorate Of Chiropractic from Logan in 2017. In my spare time, I enjoy weight lifting, running, water sports, hiking, biking, and spending time with my friends and family in the community.
I joined Lakeview Chiropractic because of the positive impact Lakeview and Port Huron has had on my life. I want to give back to the community that has helped me grow personally and professionally.
My mission is to evaluate, educate, and provide highly skilled and professional and personal care for all patients, thereby helping them achieve optimum performance and function through chiropractic. I will encourage the community to pursue wellness through lifestyle change and patient education.
---
Massage Therapy Team
Our massage therapy team works closely with our doctors to bring you the most accurate therapeutic results and fastest recovery. This truly integrated approach helps accelerate your healing process.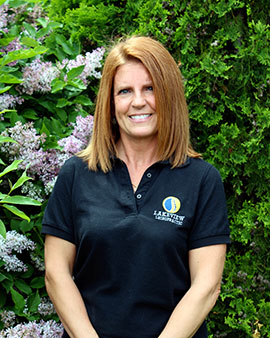 Melinda, LMT NCTMB
I graduated from Lakewood School of Therapeutic Massage in 2003, and since have been a member of AMTA (American Massage Therapy Association). I have been a member of the Lakeview Chiropractic staff since 2004. I am board certified in therapeutic massage and bodywork. I have also had additional training in bamboo massage, hot stone massage, prenatal massage, trigger point therapy, sports massage, Swedish massage, and Table Shiatsu.
Some interesting things about me are that I came to Michigan by way of Wyoming and Montana and grew up in Detroit on the southwest side. I am married with a son, three daughters and two stepsons. A married stepson in California, a son studying electrical engineering at Lawrence Tech, a daughter studying statistics/biology/health and gender studies at U of M (and a senior, hooray!), a stepson at Western Michigan studying computer engineering, a twin daughter at Central Michigan studying athletic training and a twin daughter studying at SC4 and then planning on continuing with nutritional science at either Wayne State, Western or Central Michigan. I love to read, walk, run, bike ride, garden, eat ice cream, and play with cats, of which I have three. I haven't climbed Mt. Everest, but I have climbed glaciers in Glacier National Park! If I can't live by the water, I'd live by the mountains in Montana.
---
Linda, LMT NCTM
My name is Linda and I've had the pleasure of working at Lakeview Chiropractic since relocating to the Bluewater Area in 2009. I graduated from Irene's School of Myomassology in February 2004. I've worked in spas and salons in Oakland County before moving to the area. I love being able to help our clients reduce stress, pain and muscle tension with the benefits of massage. It's a very rewarding job to be able to make people feel and function better. I am married, and the proud mother of three children. Two daughters, one son, and a fuzzy feline name Lucy. I love hiking, biking, traveling, reading, cooking, and spending time with friends and family.
---
Teri, LMT NCTMB
I graduated from Baker College in 2012 with an Associate's in Applied Science with a certificate in Massage. I have been a member of the Lakeview Chiropractic staff since 2013. I like helping people to feel at ease during their massage and to have them leave the room feeling relaxed and rejuvenated.
Some interesting things about me are that I am married with two grown children. I am a huge yoga lover. I also have a huge heart for animals. I served nine years in the United States Marine Corps before getting into massage therapy. I also have recently completed my Master's degree in Emergency and Disaster Management.
---
Kathy Raymo, LMT BCMT
I started my massage career at Baker College of Port Huron in 2005. I received my certificate degree in massage therapy in 2006. In 2007 I graduated earning an Associate's Degree in Applied Science majoring in Therapeutic Massage. I'm a licensed Massage Therapist, Board Certified for Therapeutic Massage & Bodywork.
Since graduating I have worked at Kamego Chiropractic, A Day Away Spa, and I'm currently employed here with Lakeview Chiropractic where I've been a part of the team since 2014. I specialize in deep tissue and trigger point therapy. I'm also trained in sports massage, pregnancy massage, hot stone massage, and lymphatic drainage. Also, I am certified in reflexology and raindrop therapy an essential oil massage.
What was just a dream when I started working with our office, has become a reality. Three years ago I went back to school to learn how to massage my other passion. Horses! I became certified in Equine Sports Massage (CEST) and Equine Rehabilitation Therapy (CERT).
I've been with my husband for 30 years. We have three children and four grandchildren that are my pride and joy! I have two dogs and my horse Eclipse who is my best friend. I love the outdoors, horseback riding, bonfires, and good company. I'm a country girl at heart.
I consider myself a lucky gal. While at work, whether at the office or in a barn. I'm helping heal the mind, body, and soul naturally. I get to help others reach their goals. So come in and see me. I'd love to meet you and together we can work on reaching your goals too.
---
Michelle
I joined the Lakeview Chiropractic team in October of 2015 and has been a licensed massage therapist since 2011. I have spent my career in the realm of healing others from studying nursing, assisting patients with mental illnesses, delivering in-home care to both people with disabilities and the elderly community as well as practicing massage therapy.
I believe in enhancing physical, mental, and emotional well-being through the calming therapeutic experience of massage. I believe we all contain the innate ability to heal and uses an intuitive approach to create the ideal environment for you to unwind. I slowly engage with the body to assess needs and uses a combination of massage techniques to deliver a relaxing and restorative experience.
In my personal life, I also enjoy promoting a healthy state of mind and body within myself as well as among my three daughters. I am dedicated to daily exercise and holistic practices. Family and friends often benefit from the dozens of homeopathic remedies I enjoy crafting in my spare time.
---
Office Staff Here To Help You
Our clerical staff strives to give you a welcoming environment from the moment you step foot in our facility. They are here to greet you, make you comfortable, answer any questions or concerns, handle billing, appointments, and make sure you see your Doctor promptly.
Shannon McDonald
I have had the privilege of working at Lakeview Chiropractic alongside Dr. McMath since 2002. Dr. McMath's knowledge and desire to help is infectious.
This quote from Ralph Waldo Emerson epitomizes what I want to accomplish every day at Lakeview Chiropractic:
"To laugh often and much; to win the respect of intelligent people and the affection of children; to earn the appreciation of honest critics and endure the betrayal of false friends; to appreciate beauty; to find the best in others; to leave the world a bit better, whether by a healthy child, a garden patch or a redeemed social condition, to know even one life has breathed easier because you have lived. This is to have succeeded."
---
Shelly Hernandez
I joined Lakeview Chiropractic in the fall of 2005 as a CA Biller, and I have over 20 years of billing experience. I received my accounting degree from Port Huron School of Business. My family including my mom have been patients of Dr. McMath's since the 1990s. It is great to work in an environment that feels like an extended family.
As for my family, I am married with two grown children and we have been blessed with seven grandchildren. We also have one rescued fur baby.
During my spare time, I love spending time with my family, including playing cards and board games, rescuing old furniture and restoring it, doing crafts with my daughter and grandchildren, and taking long drives down the country dirt roads.
---
Jenn Austin
I'm a Chiropractic Assistant at the front desk. I came to Lakeview in November 2013, looking to expand my knowledge, and get reacquainted with the area I grew up in. I truly enjoy people and what I do here. That's what makes my "job" more like a "fun day out." I'm married and have two awesome children. In my "spare" time, I like to refurbish furniture and host game nights with friends and family. I'm also an avid Hallmark watcher. Mostly because it sends a positive message. I feel we do the same thing here at Lakeview Chiropractic. Our doctors educate our patients while using controlled techniques to improve spinal motion, and offer recovery solutions. I'm glad to be included in such a positive setting, all while having the comfort of a family.
---
Denielle Willard
I am a Chiropractic Assistant here at Lakeview Chiropractic and have been here since September 2013. I enjoy helping all of the patients that come into our office. I love seeing the change that people go through when they first come in and watching them get the help they need and feel better. It's also a lot of fun for me to get to know the patients, and build fun working relationships with them. Since working here, I've been able to watch and speak with the doctors and massage therapists, and go to some seminars to further my knowledge with chiropractic, and begin to build my knowledge with nutrition and supplements to further help our patients. I like being able to build that knowledge, share it with our patients, and see them benefit from it.
I have lived and worked in Port Huron since I was a kid. I am married to my best friend Garrett and look forward to building our lives and family together. We have an adorable little dog named Mac that goes and does everything with us. In my spare time, I love to watch movies, spend time outdoors, and hang out with my friends and family.
---
Kelly
I have had the pleasure of working at Lakeview Chiropractic since 2013 as a CA Biller. I attended the Practice Management Institute (PMI). I am a medical coder and have my medical secretary certification. Before working here I previously worked 25 years in a medical office, and in 2008, became a first-time chiropractic patient here at Lakeview. I was amazed at what a difference it made in my health and was very impressed by the care I received and how friendly the staff was, now I get to be a part of it.
On a personal note, I am married with no children – just animals (Llamas and alpacas). My husband and I belong to the MTFCI (Model T Ford Club International) – in which we travel throughout the US and Canada with our model T's.
---
Anna Crellin
I started working at Lakeview Chiropractic in June of 2018 after graduating from St. Clair Community College with an Associates degree in Applied Sciences and Radiologic Technology! I am the X-ray Technologist at Lakeview and also assist Dr. McMath and the other doctors to give all our patients the best quality of care!
I have been a chiropractic patient with Dr. McMath since I was very little so I knew that coming to work at this office I would feel right at home, and I was right!
The future for me is to continue my education on to my love for nutrition and the need to help others! I have started by becoming a yoga instructor and I can not wait to begin teaching our community!
Our chiropractic team is excited to help you. Schedule now for the best chiropractic service in the Port Huron area.